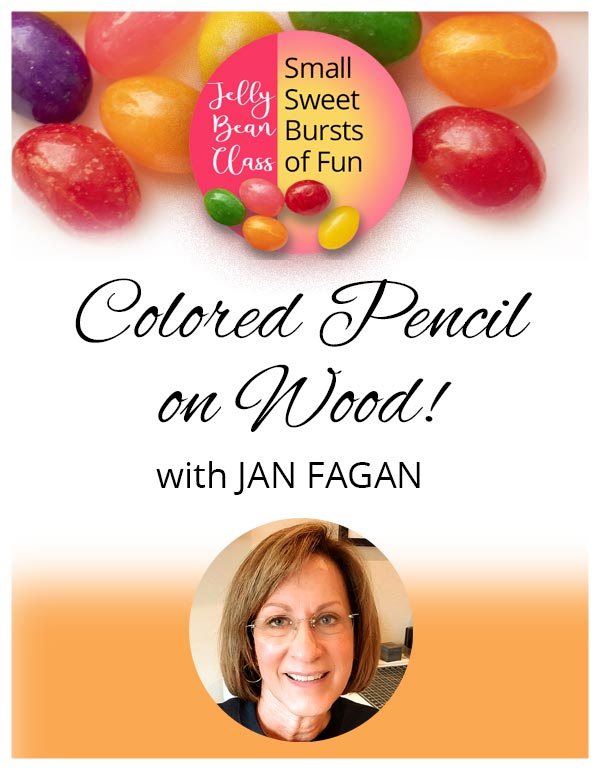 When: January 21 (10:30 am – 12:00 pm Pacific Time)
Instructor: Jan Fagan
Cost: $35
About the class: Colored pencil on wood?…You betcha! Why stop at paper? Colored pencil and wood are perfect together! In this fun class, Jan will show you how to create a fun and functional wooden box, perfect for jewelry, keepsakes, or use as a gift box! You'll love how pencils just seem to glide on wood. Jan will walk you through a simple project using the techniques she has perfected over years of working with CP and wood. She'll also share tips and ideas to help make your future CP projects on wood a success. Whether for crafts or fine art, you may be surprised at all the things you can do with your colored pencils and wood!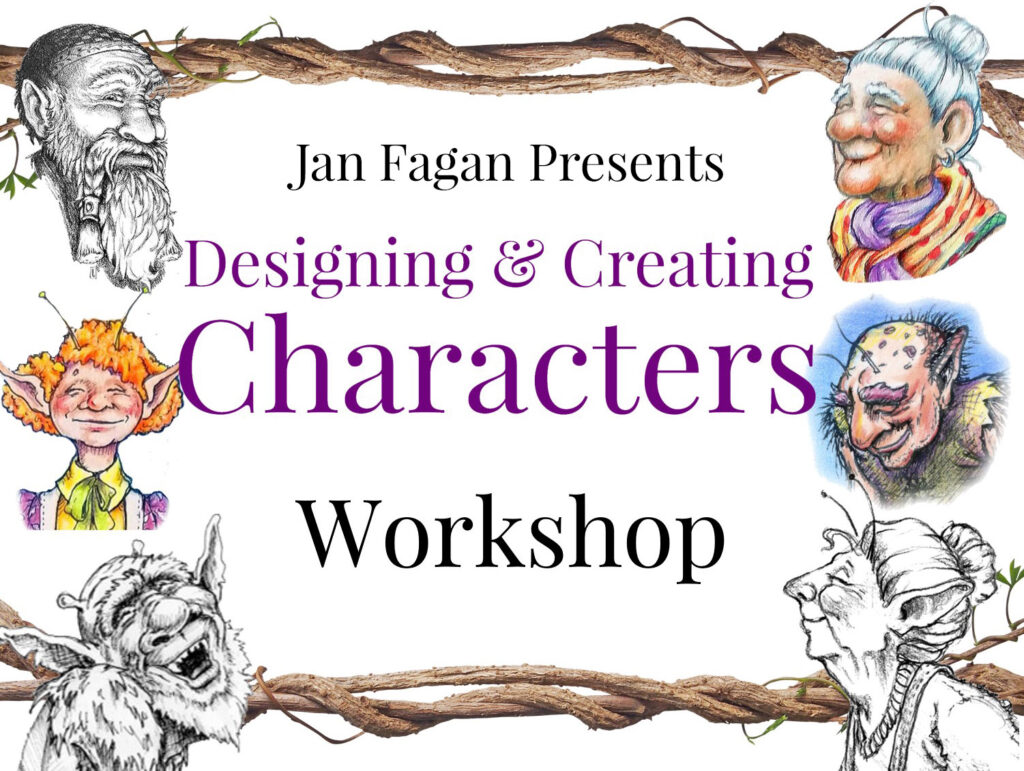 October 22nd-23rd, 2022 – Online via Zoom sponsored by the Portland chapter of the Colored Pencil Society of America (CPSA).
Have you wanted to illustrate your own children's book or just be better at drawing from your imagination? This is for you. Join this interactive class that will both surprise and delight you with what you can pull from your own imagination!
This workshop is open to everyone.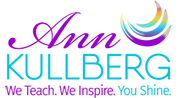 Ann Kullberg Alaska Cruise! May 23rd – 29th, 2022
I will be teaching a fun and interactive workshop designed to strengthen your creative muscles on this ever-popular Ann Kullberg cruise to Alaska. You will also have the priviledge of choosing classes by Andria Burchett and, of course Ann Kullberg herself!!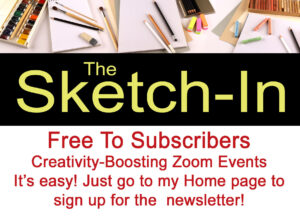 FREE Subscriber Zoom Events!
Watch for the announcements in my newsletters. Subscribers join me via Zoom where you will be doing a fun drawing and/or creativity challenge – and it's FREE! If you aren't yet signed up for my newsletter just go to my home page for the link! It's that easy!

Colored Pencil Boot Camp! video is now available
Are you new to colored pencils? This is your class! You could spend months learning all this on your own…or learn it all from Jan in one workshop! Absolutely perfect class for beginners. Spend 3.5 hours with Jan and make your very own CP Reference Manual stuffed with info you need to be well armed to tackle any colored pencil project!

Character Development Workshop With Jan Fagan
June 6th & 7th, 2020 – 9:30AM-4:30PM
Learn creative techniques to develop, design and draw your own unique characters!
Stacy Community Room, 1900 South Main Street, Grapevine, Texas

Schack Art Center Annual Holiday Show – November 14th through January 4th
I am honored to have my work included with almost 100 other colored pencil pieces at the Schack Art Center Holiday show. This is a highly anticipated event each year in Everett and our Seattle chapter of the Colored Pencil Society of America (CPSA) is very excited to take center stage in this year's event! Come on by and . . . Merry Christmas!
Schack Art Center * 2921 Hoyt Ave, Everett, WA 98201

COLORED PENCIL CLASS AT THE GOOD STUFF ARTS GALLERY
Beginner/Intermediate Colored Pencil Class
Thursday, June 27, 2019
10:00 AM – 12:30 PM
$55.00
(Level 2) By Jan Fagan If you are just getting started with colored pencil or are already into your journey then come and join us for our homage to the Tulip Festival! Even if you don't quite finish your piece within the class time you will have enough knowledge to easily finish it at home. Link to class sign up: https://www.eventbrite.com/e/beginningintermediate-colored-pencil-class-with-jan-fagan-tickets-62448072867
The Good Stuff Arts
604 Commercial Avenue
Anacortes, WA 98221
The EXPANDING YOUR ARTISTIC MIND WORKBOOK IS FINALLY AVAILABLE!

This workbook is packed with information and fun exercises designed to give your Creative Self a boost! Check it out in my Etsy Shop. (See link below) You can find the link in my About Me tab.
"When it comes to drawing and sketching, if you are one of those people who says, "I can't," this workbook will totally change your mind. With easy-to-follow breakthrough exercises and plenty of encouragement, Jan will have you saying, Yes, I CAN!" in no time. Get ready to fall in love with drawing!"
Rhonda Dicksion, graphic artist, photographer, writer
Editor-in-Chief, COLOR Magazine
Professional colored pencil artist
www.901art.com
"This is the book to help explore one's own creative mind and bring it to paper. It's a must book for artists young and old and even for those who may not think of themselves as artist but love to create. This book would be great for young students as well as it does teach them to use and train their brains in a way no one ever teaches."
www.HareBrainArtStudio.com
"Expanding Your Artistic Mind is incredibly fun and inspiring – a must-have for creatives of all kinds! Jan Fagan's innovative exercises had my mind humming in new directions with fresh ideas that I had not considered before. With easy-to-follow instructions and beautiful illustrations, this workbook will make your creative spirit blossom. I can't wait for the next workbook in the series!"
Debby Neal, artist and painter
https://www.etsy.com/shop/JanFaganArt

Beginner Colored Pencil Class at The Good Stuff Gallery
February 16, 2019
10:00 am to 12:00 pm
Cost: $45.00
If you are completely new to colored pencil but would like to learn how to use this versatile and very portable medium, then this is the class for you! The first hour will be filled with artistic play by discovering tips, tricks and techniques fine artists use to create their art with their colored pencils. The second hour you will be creating your own work of art using a source photo supplied by Jan. Even if you don't quite finish it within the class time you will have enough knowledge to easily finish it at home! Easy sign up online at https://www.thegoodstuffarts.com/classes.html The Good Stuff Arts 604 Commercial Ave Anacortes, WA 98221 PH: 360 755-3152 www.thegoodstuffarts.com

Watermark Book Company Art Walk Featured Artist
January 4th from 5:30 PM to 8:30 PM * 612 Commercial Avenue, Anacortes WA 98221
Come in and say hi! In addition to doing a live demo I will have prints and cards for sale. I'll even have some free coloring pages for the kiddos!
Watermark website: https://www.watermarkbookcompany.com

January 1, 2018 marks the beginning of my new responsibilities as the Vice President of the Colored Pencil Society of America (CPSA) Seattle Chapter! Looking forward to new colored pencil adventures!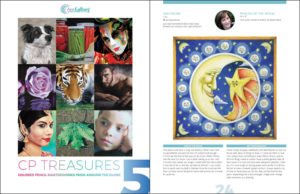 Guess what!? I'm in Ann Kullberg's CP Treasures V (2017)!
For the second year in a row my work was chosen to be included in the Ann Kullberg juried CP Treasures book featuring colored pencil artists from around the world. My art was one of 120 pieces chosen out of over 800! I'm so honored and excited to be included in the journal!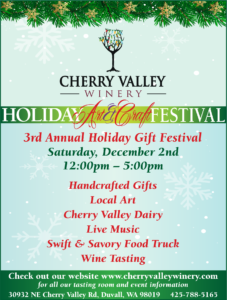 Come see me at the that annual Cherry Valley Holiday show!
Artists and artisans, music and food! Come by for one-of-a-kind gifts.
Annual PEO Show
I will be at the upcoming Annual PEO art and craft show. Proceeds go to helping women get higher education!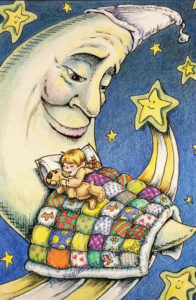 Fantastical Worlds Exhibit
I will have a colored pencil piece at the upcoming "Fantastical Worlds Exhibit" at Blakely Hall in Issaquah, Washington September 6 – November 8Reception: Thursday, September 7, 6-8pm artEAST presents "Fantastical Worlds," featuring 19 Pacific Northwest jury selected artists. "Fantastical Worlds" indulges our imaginations with artwork that offers an escape from reality that is extravagantly fanciful and takes the viewer on a magical mystery journey. There is a broad array of artwork that includes images of imaginary creatures and habitats, as well as distorted viewpoints from our own planet. Blakely Hall is located in Issaquah Highlands. This venue is typically open 8-5 M-F but is occasionally reserved for private events. To confirm access, please call (425) 507-1107. Fantastical Worlds Exhibit
Beginner Colored Pencil Clinic
September 30, 2017 – 9AM-12 Noon, Northwest Art Center, 15705 Main St NE F, Duvall, WA (425) 788-5900
Some of what you will learn:
The many different kinds of colored pencils on the market and how to use them
Really helpful tools for drawing in colored pencil
Types of drawing papers and surfaces used for colored pencil art
Various blending tools and solvents used
Colored pencil tips and tricks
How to find free, copyright-free sources to draw from (aside from your own photos)
Everyone will get to work on a colored pencil piece using a subject matter of their choosing. After all, if you don't like drawing something you won't have fun working on it! Don't know what to draw? No worries.
I will be sending you a short questionnaire before the class that will help you decide what your best subject matter could be! Based on your answers I will even bring some source photos for you to work from if you don't have any.
At the end of the class one lucky attendee will also win a gift bag full of fun, colored pencil related items!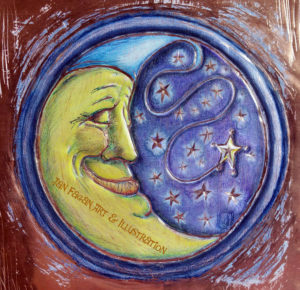 Colored Pencil on Copper Workshop
July 8th, 2017, 6PM-9PM
Northwest Art Center, 15705 Main St NE F, Duvall, WA
(425) 788-5900
Create a unique colored pencil and copper masterpiece! All you need to bring are your favorite colored pencils and perhaps a drawing pad in case you want to sketch some ideas first. That's it! I will have everything else you need for this fun and unusual project.
Only $35.00 per person. Summer refreshments served! (BYOB allowed)
Artist's Way Reunite & Ignite
May 3, 2017, 6PM-9PM
Northwest Art Center, 15705 Main St NE F, Duvall, WA 98019
Creative Adventure Workshop
March 25, 2017, 10AM-1PM
Studio Beju, 15630 Main St NE, Duvall, WA 98019
Using a combination of guided meditation and fun, creative-inducing exercises I'll lead you through an adventure in creativity that you'll be able to replicate on your own. You'll learn techniques to help open new doors to your imagination and even break those occasional creative blocks. $45 per person. Interested? Send me an email in the Contact Me section at the bottom of my screen.