Today, I struck up a conversation with one of the employees in a local hardware store. I didn't need to see behind her mask to know she had a smile because her eyes were doing all the smiling for her. She was putting up new holiday items on the shelves and we started talking about how it wasn't even Halloween and yet, the Christmas decorations were already for sale in stores. We both chuckled about it.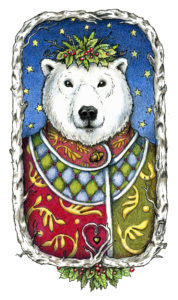 And then she paused and said "You know what? Why not? It's been a really hard year and it will be nice to add a little joy at home." She showed me a box of twinkle lights she was going to purchase for herself to place around the kitchen window over her sink. She was going to hang a bunch of her favorite cookie cutters up among the lights and I had to admit it was a cute idea. We chatted about how we will be missing our families during the holidays. She also hinted at some sad losses she's had this year but didn't elaborate and I didn't pry.
Then she told me a story about a friend of her father's who had never said "goodbye" to people. Instead, he would always say "blessings". Nothing religious, he just sincerely wished the best for whomever he was talking to. I could see her eyes smiling again as she told the story. My eyes were smiling, too. They were also a little teary. I spotted a small, scented holiday candle on the shelf and added it to my basket and told her it was going to add some joy to my studio today.
Then I told her she had made my day brighter . . . because she had! We wished each other blessings and I took my purchases, the holiday candle included, to the register. I drove home thinking about our conversation and how much of a lift it gave me. And that candle? It's giving me lots of joy as it adds a cinnamon-spiced aroma to the air in my studio.
And so, to you I would like to say . . . blessings! I hope brighter and lighter days for you, too.